Jersey Shore Cast Members As Disney Characters - Who's Who?
I can't be the only one who desperately misses watching "Jersey Shore." From GTL, to Snooki getting punched, to The Situation being The Situation, that show brought crazy to a whole new level. To date, no other reality show has come close to the party antics this cast pulled. So, in one of my frequent moments of nostalgia, I'm recasting the "Jersey Shore" stars as Disney characters for your pleasure. (Mostly my pleasure, but I hope you get a kick out of it!)
Deena - Anna from "Frozen"
We saw this Gif on: Rebloggy.
We saw this Gif on: We Heart It.
Like Anna, Deena was late to the party ("Frozen" came out like a year ago, right?), but we still fell in love with her all the same. She's funny, energetic, and always down for a good time.
Ronnie - Captain Li Shang from "Mulan"
We saw this picture on: Facebook Covers. We saw this picture on: BuzzFeed.

Totally ripped and very macho-acting, Ronnie and Captain Li Shang are a great match. Other than the muscles though, is there really much to say about either? Nope.
Angelina - wanted to be cast as the villain, but didn't make it past the first round of auditions More like, "Um Goodbye!" (We found this Gif at: King of Culture)
Vinny - Flounder from "The Little Mermaid"
We found this Gif on: Odyssey.
We found this Gif on: QuotesGram.

C'mon! This is just too perfect. They're both adorable and don't really know what they're getting into half the time. At times, both Vinny and Flounder are annoying, but even in those moments, you can't help but love them.
Sammi Sweetheart - Aurora from "Sleeping Beauty"
We saw this Gif on: RealityTVGIFs.

We saw this Gif on: Rebloggy.

They're both so pretty, and while I do love Sammi and Aurora, you have to admit they're a bit dull. Like, would the show have honestly been that different if Sammi just pulled a "Sleeping Beauty" and slept through it?
The Situation - Gaston
We saw this picture on: Becky Yamamoto.
We saw this picture on: reddit.

Both these men have TONS of muscle. I wouldn't be surprised if The Situation also ate 4 dozen eggs as a lad. But when it comes to the muscle in their heads? That muscle could use some (a LOT of) exercise.
Snooki - Alice from "Alice in Wonderland"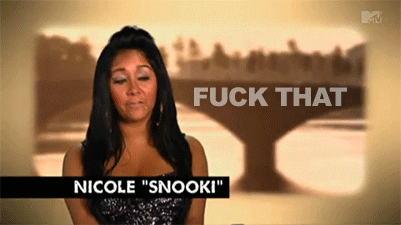 We saw this Gif on: GIPHY.

We saw this Gif on: reddit.

Snooki is right behind JWoww on my list of favorites, and she'd make a perfect Alice. Both are adorable and insatiably curious. Seriously, these girls are always willing to go down a rabbit hole of sorts to discover something new. It doesn't always end well (Alice meets a beheading queen and Snooki gets punched in the face), but they never let a setback stop them from being brave girls always on the hunt for adventure.
Pauly D - Thomas O'Malley from "The Aristocats"
We saw this Gif on: DJ PAULY D.
We saw this Gif on: Rebloggy.

Why do so many people forget this film?! "The Aristocats" is amazing! And Pauly D is the perfect Thomas O'Malley: smooth, kind of sexy, kind of a bonehead, but at the end of the day, a good guy. Plus, they're both musical.
Jwoww - Meg from "Hercules"
We saw this Gif on: fuck yeah jwoww.
We saw this Gif on: idreamofdisneyx.

I'm biased. Of course I'm going to cast my favorite "Jersey Shore" girl in the role of my favorite Disney girl. But this is the right casting for her. They're both super sexy and have sass for days. They don't need a man to complete them, but when they do fall in love, they're loyal. Meg and Jwoww aren't the dull princesses: they're the badass b*tches who could take you down.